Versatile, affordable and long lasting- rubber stamps are a fun alternative for encouraging children to explore their creative sides. There are a variety of ways to integrate the usage of stamps into crafts, here are some suggestions:
 1. With Multi-colour rubber stamps
The introduction of colours are a good way to capture a child's attention and keep their interest. Consider encouraging them to make full use of the colours to fill in shapes, or decorate cards. They could make use of multi colour rubber stamps to make book covers, gift tags and other decorative material.
If you feel up for it, you can also let your children design a wall mural or wrapping paper with the stamps!
2. With Customised rubber stamps
Rubber stamps are largely preferred as you can customise them in whatever way you like at very low prices and use them for quite a long while. Since this is so, you can consider getting your rubber stamps customised for your child's handicraft ideas- from simple typography of your child's name, to their favourite food/object item or character and et cetera.
This way, your child can explore adding their own distinctive flair to party invitations, festive cards and even incorporate those stamp designs into their own drawings.
3. With Wood-mounted rubber stamps
If your children are interested in pottery, spice things up with incorporating the usage of wood-mounted rubber stamps to create designs for their creations. They can also apply them on fabric to create table cloths, uniquely designed bags or even shirts.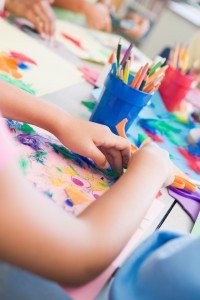 4. Hand Stamp/Self inking Stamps
Hand stamps are another fun way to engage the children in activities. Making use of stamps that contain ink safe for usage on skin, they can effectively stamp some of their favourite shapes and colours on themselves without compromising their health.
They can be encouraged to experiment with patterns, interacting with one another with different stamps, and even decorating their attire as they please with the help of their friends.
5. With Photo Stamps
For kids interested in scrapbooking and postage stamps, you can now create a unique one of your own with photo stamps! Easy to use and make, the children can now have fun creating cards and makeshift letters with their own pictures as stamps to add a creative touch to their letters.
Art and crafts are a good method to encourage the expression of creativity for kids. You can encourage them to gradually experiment through different mediums by constantly introducing new tools and fresh materials.